Non-Stop Fun! (Final!)
Wrap-Up! Addenda! And Random Smack!
I got such a good reaction to the GI Joe PSAs – well, if you can consider comments in the form of "about to get fired due to laughing my ass off at work" to be good – that I'm providing two addenda. The first I like but had forgotten about; the second I somehow missed entirely back in the day.
"Nice catch, blanco niño . . ."

"Everything's fine, everything's good . . ."

Just because I can, here's the original theatrical trailer for the greatest motion picture of all time – and, perforce, but in any case, one of the best trailers of all time.
Some better McSweeney's Lists:
XKCD Addendum: The most popular XKCD of all time, but which you'll only get if you're a Unix person.
Sandwich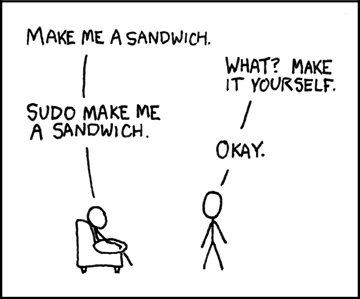 An addendum from I PUT A TEXT ON IMAGE!, and but which you will also only get if you are a Unix person.
This is Counter-Struck. You'll be enormously amused by it if you've ever played Counter-Strike, and very amused by it if you've ever played any first-person shooter video game, and wildly confused and annoyed by it otherwise.
Here are scores of short video snippets of people getting massively pwned, which you'll appreciate if you're a totally unreconstructed sadist.
Fini! Now back to our regularly-scheduled fascist political screeds and schilling for my books . . .